Right Time, Right Place, Wright City
A LETTER TO YOU FROM MAYOR DAN ROWDEN, RETIRED
Dear Citizens of Wright City,
After a lot of consideration, long talks with my wife, prayer, and loss of a lot of sleep, I have determined that it is time to submit my resignation as Mayor of Wright City. It has been an honor and pleasure to serve as Mayor since 2017 and as an Alderman prior to that time. I believe we have done a lot of good for the city in that time frame. I have been honored to serve with some wonderful people on the Board of Aldermen over those years. I am thankful to my friend David Heiliger who got me involved on P& Z Board, Board of Aldermen, President of the Board and, following David's untimely death, I was asked to serve as Mayor. I am extremely grateful to City Administrator Jim Schuchmann for his help and guidance when I came on as a new alderman. I am honored to have appointed him as Wright City's first City Administrator. Jim, your knowledge, talent, skills, and leadership have been a tremendous blessing to me and to our city. To our current Board of Aldermen, I wish you great success and nothing but the best for our wonderful city. The future of the city looks very bright for growth and development. I am also thankful for our Chamber of Commerce, Greater Warren County Economic Development, Boonslick Regional Planning Commission, Joe Gildehaus and the Warren County Commissioners, Wright City Fire Protection District, and The Warren County Ambulance District. I so much appreciate your support over the years. We have also been blessed with many great employees who serve our citizens with dedication and distinction. I am thankful for you all! I am thankful for our Police Department staff, City Hall Staff, Public Works, Parks Department, and the multitude of volunteers who make Wright City such a wonderful place to call home. Pastor Joe Purl, who has served as Pastor, Chaplain for our Police Department, Chaplain for our Board meetings, confidant, and great friend. Thank you for your consistent care and devotion to our city. Paul Rost, our City Attorney, thank you for all your wisdom, guidance, and support to help keep us on the right track! My wonderful wife, Carol for all your patience, support, guidance, prayers, and love. I couldn't have done anything without you!!  Finally, to our wonderful citizens and the many friends I have found, thank you for your support throughout the years!
May God Bless you all!
Mayor Dan Rowden, Retired
NOTICE
City of Wright City, Missouri
Wright City, Missouri, is located along Interstate 70, about 45 miles west of St. Louis. As part of the westernmost portion of the St. Louis Metropolitan Economic area, Wright City not only provides a country setting for housing but a potential for economic growth that is attractive for those businesses seeking to cater to the needs of a residential community and facilities for light to heavy industrial businesses. Primarily single-family, with some multi-family housing,
Wright City provides a peaceful, semi-rural area in which to live, yet is within an easy drive for the major sporting and cultural events of the St. Louis area. A wide variety of homesites are available to serve almost any lifestyle.
WESTWOODS ROADS PROJECT
The excessive rain in June and July delayed the start of the Westwoods Road Project. Contractors plan to start construction next week and may have some lane restrictions in Phase 1 over the next 3 weeks.
The contractor is looking to have the roadway overlayed from east of Aster Dr. to West of Indian Head Lodge Rd (Phase 1) before school reopens on Aug 23.
This would allow normal traffic flow to the high school from the west.
See attached map.
Phase 2 would follow, starting Aug 23 and will likely run through September, as it contains more work.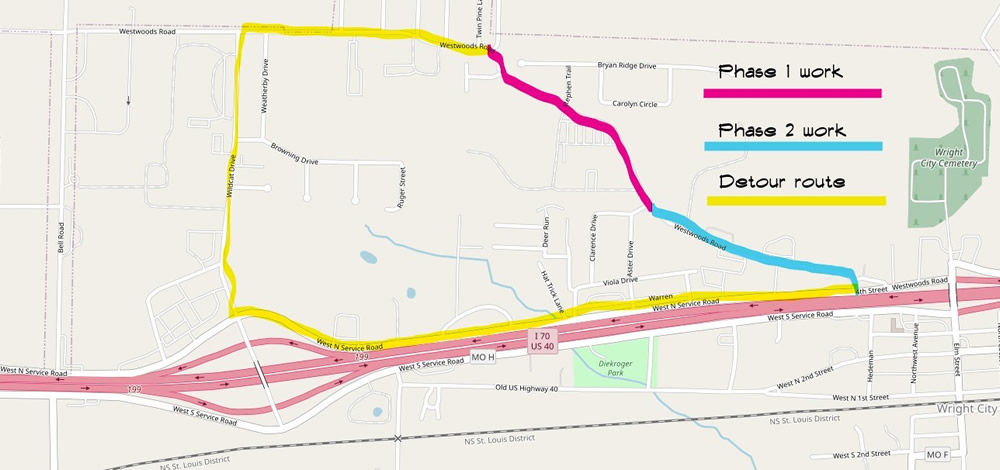 CODE RED IS THE NEW EMERGENCY MASS NOTIFICATION PROVIDER FOR WARREN COUNTY. IN CASE OF AN EMERGENCY SITUATION, ELECTRONIC NOTICES WILL GO OUT TO THOSE REGISTERED.
NOW HIRING
Click on the links below to download  the job descriptions.
Financial Support for Missouri Renters Impacted by COVID-19
Struggling to pay rent or utilities due to the COVID-19 pandemic? Missouri State Assistance For Housing Relief (SAFHR) may be able to help – learn more and find out how to apply!
What help does SAFHR for Renters Provide?
Provides rent and utility assistance for eligible Missouri residents impacted by COVID-19 pandemic.
Cover up to a total of 12 months rent and utility bills, back to April 2020 and for up to 3 months in the future.
Utilities include gas, electric, water, sewage/waste water, fuel (propane, wood, etc.) and trash.
Money is paid directly to landlord or utility company.
Applications are open now! If you cannot apply online or need help with your application, please call 833-541-1599 or email mo.safhr@mhdc.com.
City Meetings
---
Board of Aldermen
Second and fourth Thursday of each month
6:30 p.m. at City Hall
Planning and Zoning Commission
Third Monday of each month
6 p.m. at City Hall
Monthly Board and Commission Workshop
First Monday of each month
6 p.m. at City Hall
Park Board
Second Tuesday of each month
6 p.m. at Wil Heiliger Activity Building, Diekroeger Park
Municipal Division Court
Second and fourth Wednesday of each month
6 p.m. at 636 Westwoods Road, Wright City
All meetings and Court sessions are open to the public.
City Officials
---
Mayor Dan Rowden
Ward One Alderman Michelle Heiliger
Ward One Alderman Don Andrews
Ward Two Alderman Ramiz Hakim
Ward Two Alderman Nathan Rohr
City Administrator Jim Schuchmann
City Clerk Abbie Ogborn
Treasurer Laura Hutchings
Acting Police Chief Tom Canavan
Sports Director Eric Burton
Project Manager Jim Schuchmann
Planning and Zoning Commissioners:
Kim Arbuthnot, Angela Blackstun, Tony Girondo, Nathan Hamilton, Joseph Iannicola, Michelle Heiliger, Dan Rowden, Thomas Uhl, Ramiz Hakim
Park Board Members:
Ward One: Joseph Holiway, Michael Cardenas-Salas, Richard lagemann
Ward Two: Mary Groeper, Kathy Kehoe, Rachael Hakim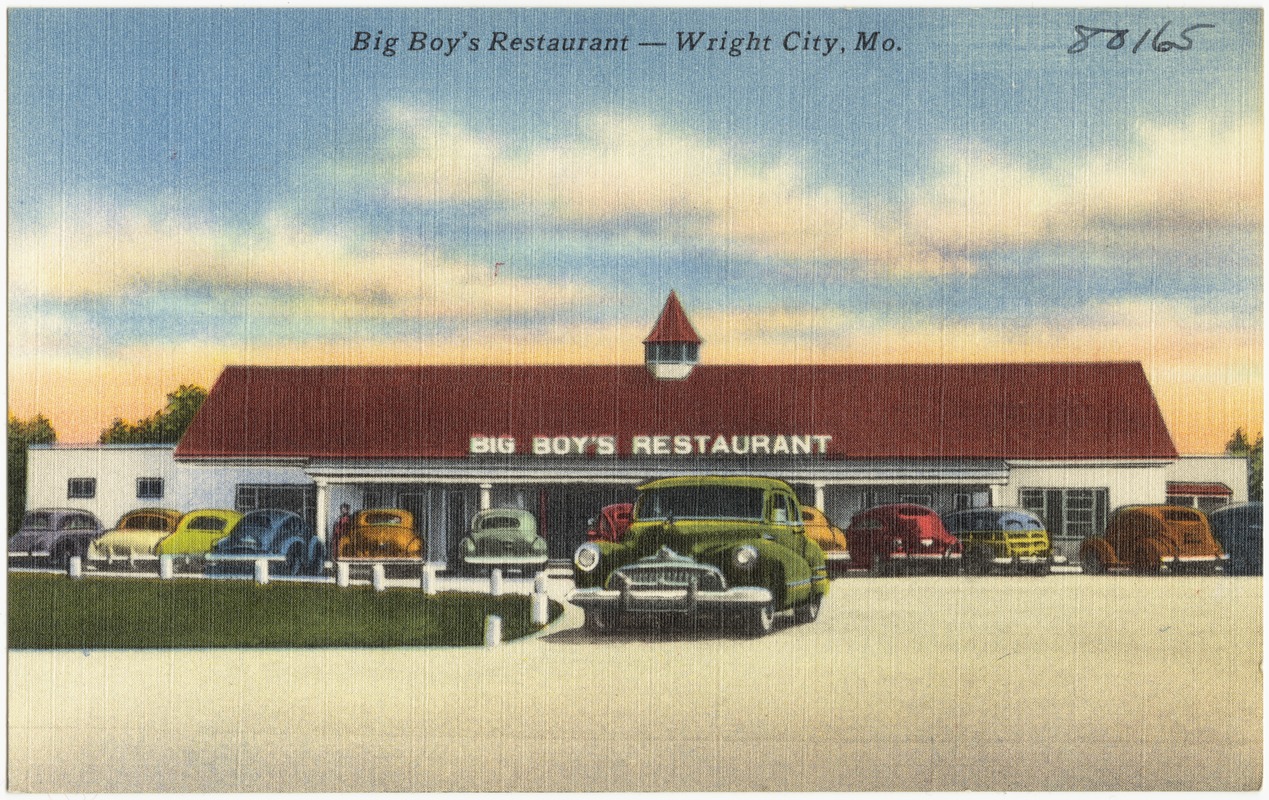 By D. M. Wright. Jr. Co., St. Louis, Mo.
The History of Wright City
The City of Wright City was platted as a village in 1857 by Doctor Henry C. Wright on land granted to Dr. Wright in 1831 by the United States. The village was platted to take advantage of the new North Missouri Railroad which was constructed in 1857. Dr. Wright built his home about 1860 on land that sets now at the corner of South First Street and South Locust.
In September 1863, the Wright City Raid took place during the Civil War. The Baptist Church, Bryan's Blacksmith Shop and Kennedy's Saloon (all known to be places where Southern sympathizers congregated) were burned to the ground by Union Militia.
The town of Wright City was incorporated in 1869 and became a fourth class city in 1941. Wright City, a thriving community doing business through the railroad, then with the advent of automobiles Highway 40 ran through the center of town bringing motorists and businesses catering to them. In the 1950's, Interstate 70 was constructed, bringing a whole new group of businesses. Today, Wright City is a growing community with the advantage of the railroad and interstate highway.